Conversation had standing in the middle of Kroger. 
Me:  "Dearest, what would you like me to make you for dessert on this glorious Saturday?" (Well, it's how I hear myself in my head anyway.  I'm sure he hears something totally different...grin)

Hubs: "Um...I dunno."
Me: "Something delicious and chocolaty?"
Hubs: "Um."
Me: "Cupcakes? I've seen some great ones online."
Hubs: "Can you make just a plain ol' cupcake, not a fancy schmancy one?"
Me: "Nope."
Hubs: "Ok, no cupcakes then."
Me: "Ok....? Any other ideas?"
Hubs: "Um...."
Me: "Ok?  Cookies? Brownies? A Cake?"
Hubs: "Um..."silence
Me: Sigh.."Well?"
Hubs: "I feel pressured now and can't think."
Me: (Now here's what I am tempted to say..."Good Lord, I am not asking him to solve the peace in the Middle East crisis, just think of a darn dessert for me to make"..what I actually, or at least some variation of, say is) "My dearest, this conversation is taking way to long standing in the aisle at the grocery store on a Saturday morning....and besides you're missing your football games."
Hubs: "Crap!  We gotta go. How about a pecan pie?!"
Me: "Bingo!  And I can blog about it!"
Mamaw and my daughter, one of the last pictures we have of her. We miss her
very much...and no I don't know why they are holding a flashlight..;o)
My husband's Mamaw, Bessie Stokes, was the most southern woman I ever knew.  Her pecan pie was legendary..at least in Yazoo City, Mississippi....can you get more southern than a city named Yazoo City?!?  You should hear reporters try to pronounce it on T.V. it's a riot. (By the way..a little sidenote, Yazoo City was wear "My Dog Skip' is set in.  Great movie!)  Mamaw's pecan pie is a true Southern Pecan Pie,  simple, pecany (is that a word?), and oh so good!  I was bound and determined that I would learn the secret to this southern delight, to honor her. 
Learning to make her pecan pie was the pinnacle of my culinary experiences so far.  I truely believe pecan pie filling runs through my husband's veins, so learning to make his grandmother's pecan pie was crucial to the success of our marriage. Pecan pie is really pretty easy to make, and is such a great fall pie, perfect for Thanksgiving.
I will confess though, I haven't quite dared to master the homemade pie crust.  I know, I know, call me chicken and I'll cluck for ya.  Though, I think I might be ready to venture into this un-chartered territory here soon.  I keep reminding myself it's only flour, butter, etc.  It's not the end of the world if I mess it up.  But in the meantime, Pillsbury has not let me down thus far, so I'll keep using the pre-made pie dough for now.
Bessie Stoke's Pecan Pie
Ingredients:
1 cup sugar
3/4 cup white Karo syrup (store brand is fine...and cheaper.)
1 cup pecans, well cleaned
2 eggs, well beaten
1 tsp. vanilla extract
2 Tbs. butter, softened
1 roll of refrigerated pie dough (located in the refrigerated section near cookies dough)

Directions:
Preheat oven to 350°. Follow the directions on pie dough package for using one pie crust.  Place pie crust in pie plate and pinch edge.  Dust bottom of pie crust with flour.  This will help the pie crust hold up to the wet ingredients and not get soggy on the bottom.
In a medium size size mixing bowl beat eggs and then add in sugar, Karo, butter, vanilla and pecans.  Mix well.
Bake at 350° for 30 minutes.  Reduce temperature to 325°and bake for an additional 20 minutes.  Center of pie should be set but edges might still move slightly when shaken.  This is ok as pie will continue to set as it cools.  Do not overcook! 
Serve with vanilla ice cream or homemade whipping cream...or if you are like my husband eat it plain right out of the oven, "just like God intended pecan pie to be eaten!"  I am so thankful to be able to make this special treat in honor of Mamaw.  She loved me like one of her own from the first day I stepped into her home.  She wasn't my Mamaw-in-law..she was just my Mamaw.
 
Enjoy!
This post is linked up to: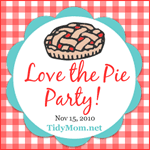 I'm excited to be featured today over at Kim's great site:
for Saturday Swap
 where I have a guest contribution this weekend.
Come join us over there where you can see my featured recipe, comment on it and link your favorite recipe up to Saturday Swap!  See ya over there!